GZ-E10AUS
Price: $229.95
Find a Dealer
Literature
Downloads
Register Your Product
Register Purchased a JVC Consumer
Product in the United States?
Frequently Asked Questions
FAQ Find answers to
often-asked questions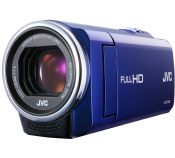 GZ-E10AUS
$ 229.95
Memory Camcorder
Capture bright and clear Full HD images with this compact memory camcorder even in low light, thanks to the Back-illuminated CMOS Sensor. A powerful Optical 40x Zoom gets you closer to the action.
Blue

Black

Red
Preferred Online Retailers

Find Local Retailers