GS-TD1BUS
Price: $1499.95
Find a Dealer
Literature
Downloads
Reviews
Register Your Product
Register Purchased a JVC Consumer
Product in the United States?
Accessories
Frequently Asked Questions
FAQ Find answers to
often-asked questions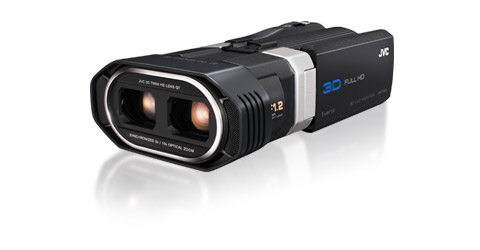 Recording

Full HD 3D Recording and Side-by-Side Format Compatibility

The GS-TD1 gives you both 3-dimensionality and high quality recordings. It's now possible to shoot 3D videos in either 1920x1080 Full HD resolution using the L/R Independent Format or in the Side-by-Side Format adopted by broadcasters. This allows for these videos to be burned in 3D to Blu-ray discs or to AVCHD DVDs, always viewable on 3D TVs either way. The GS-TD1 also highlights simple operation allowing you to enjoy 3D right away.

L/R Independent Format
offers maximum resolution.

Side-by-Side Format
offers maximum compatibility.




3D Digital Stills

In addition to videos, you can also shoot still images in 3D. These 3D pictures offer up to 2 Megapixel (1920x1080) high resolution. Plus you can also take 2D pictures that deliver 2.9 Megapixel (2304x1296) higher resolution. Either way, you'll love the results.

Sample Image (3D=.mpo / 2D=.jpg)
*Additional functions to be updated by end of July




Dynamic 3D Sound

An ideal microphone structure with 85mm spacing, combined with BIPHONIC sound processing, deliver dynamic 3D sound even through a 2ch speaker system.




Optical 5x Zoom in 3D

Clearly capture the subject in 3D even from a distance. The camera automatically adjusts the parallax level while zooming so the 3D depth always looks natural and the scene looks real.

5X




Glasses-free 3D LCD Monitor

You can enjoy 3D viewing right on the camera's high-resolution 3.5" LCD without any special glasses needed. This means you can check out how the 3D image actually looks in real time while you shoot - no unwanted surprises! Rely on easy and intuitive touch operation while you're at it

Super LoLux with two F1.2 Bright Lenses and Back-illuminated CMOS Sensors

The F1.2 lens is approximately two times brighter than conventional camera lenses, and is a perfect match for the Back-illuminated CMOS Sensor. You'll be able to record in low light environments with confidence. Record indoors or outside in darker situations with brilliant results. Record birthdays, weddings, sporting events and everyday life without the need for additional lighting.

Without Super LoLux
With Super LoLux

Advanced Image Stabilizer*

Camera-shake compensation is another important feature of a video camera. Our Advanced Image Stabilizer (A.I.S.) expands the effective area at wide angle, delivering powerful compensation for camera shake. Now, you can enjoy stable results even if you're trotting alongside your subject. *Especially effective when shooting bright scenes at wide angle (from full wide to 5x)

A.I.S. Off
A.I.S. On




Intelligent AUTO

Wherever you point the camera, it instantaneously analyzes faces, brightness, color and distance, to automatically select the best settings for the scene. Brightness, sharpness, chroma and gamma values, and more, are all continuously optimized. Get the best possible shot, anytime!
Detectable Scenes • Person • Sunset • Scenery • Forest • Macro

3D High-Speed Motor Drive Shooting

GS-TD1 offers Motor Drive Shooting just like that found on Digital SLR cameras, and it's available in 3D! As many as 12 still images can be shot in 3D at approx. 12 frames per second (fps). Enjoy a new world of photography. For 2D stills, you can shoot up to 40 images at approx. 12fps.

Smile Meter & Smile Shot

Just say cheese! The Smile Meter keeps an eye on how much your subjects are smiling, giving you a % display. With Smile Shot, the camera automatically takes a picture (in still mode) every time the smile % reaches a certain level. Based on Face Detection technology, both these features are effective in 3D as well as 2D.