GZ-R440
Price: $399.99
Find a Dealer
Literature
Register Your Product
Register Purchased a JVC Consumer
Product in the United States?
Accessories
Frequently Asked Questions
FAQ Find answers to
often-asked questions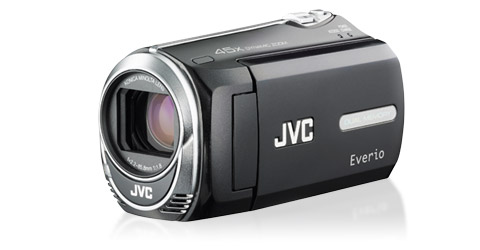 Shooting

GZ-MG750
GZ-MS250
GZ-MS230
GZ-MS110
Internal Storage Media
80GB HDD
32GB Flash
8GB Flash
-
Memory Card Slot
microSD/SDHC
SD/SDHC
SD/SDHC
SD/SDHC
Image Sensor
1/6" 800K CCD
1/6" 800K CCD
1/6" 800K CCD
1/6" 800K CCD
Full HD 1920x1080 Recording
-
-
-
-
1080/60P Output
-
-
-
-
HDMI® (V.1.3 with x.v.Color™)
-
-
-
-
24Mbps High Bit Rate Recording
-
-
-
-
Zoom Ratios
Optical
39X
39X
39X
39X
Dynamic
45X
45X
45X
45X
Digial
800X
800X
800X
800X
Bluetooth® Wireless Technology
-
-
-
-
Super LoLux
yes
yes
yes
yes
Advanced Image Stabilizer
yes
yes
yes
yes
Time-Lapse REC
yes
yes
yes
yes
Auto REC
yes
yes
yes
yes
Seamless Recording
-
-
-
-
Face Detection & Face Flow Thumbnail
-
-
-
-
Auto Flash
-
-
-
-
Auto Illumi. Light
yes
yes
yes
-
One Touch Export
yes
yes
yes
-
One Touch Upload to YouTubeTM
yes
yes
yes
yes
Laser Touch Operation
yes
yes
yes
-
Digital Still Camera Function
yes
yes
yes
-
2-Way Grip Belt
yes
yes
yes
yes
Everio MediaBrowser
yes
yes
yes
yes
SHARE STATION® Comptaible
yes
-
-
-
Remote Control
-
-
-
-
Dimensions with battery (inch/mm)
2-1/8x2-1/2x4-9/16 53x63x115
2-1/16x2-1/2x4-9/16 52x62x115
2-1/16x2-1/2x4-9/16 52x62x115
2-1/16x2-1/2x4-9/16 52x62x115
Weight with battery (lbs/g)
0.62 / 280
0.51 / 230
0.51 / 230
0.49 / 220

* Note: For all models, memory card is not provided.

Approx. recording times for each storage media

| | | | | |
| --- | --- | --- | --- | --- |
| MODE | 80GB HDD | 32GB Flash | 8GB Flash | 32GB SDHC Card |
| Ultra | 19hr | 7hr 30min | 1hr 50min | 7hr 30min |
| Fine | 28hr 20min | 11hr 20min | 2hr 45min | 11hr 20min |
| Norm | 37hr 40min | 15hr | 3hr 40min | 15hr |
| Eco | 100hr | 40hr | 9hr 50min | 40hr |

Provided Accessories

AC Power Adapter
Rechargeable Battery Pack
AV Cable
USB Cable
Component Video Cable (Selected models)
Remote Control (Selected models)
Software CD-ROM

Design and specifications subject to change without notice. The photos of the products featured on this website may not be of actual products that are available in your country.

It should be noted that it may be unlawful to re-record pre-recorded tapes, records, or discs without the consent of the owner of copyright in the sound or video recording, broadcast or cable programme and in any literary, dramatic, musical, or artistic work embodied therein. HDD models cannot be used in low pressure areas (generally places that are more than 10,000 feet (3,000 meters) above sea level).

Microsoft® and Windows® are either registered trademarks or trademarks of Microsoft Corporation in the United States and/or other countries. iTunes, iPod, and iPhone are trademarks of Apple Inc. registered in the United States and other countries. This product's YouTube™upload functionality is included under license from YouTube LLC. The presence of YouTube™ upload functionality in this product is not an endorsement or recommendation of the product by YouTube LLC. YouTube and the YouTube logo are trademarks and/or registered trademarks of YouTube LLC.

"SHARE STATION" is a trademark of Victor Company of Japan, Limited (JVC), registered in the United States and the European Union. "AVCHD" and the "AVCHD" logo are trademarks of Panasonic Corporation and Sony Corporation. Dolby and the double-D symbol are registered trademarks of Dolby Laboratories. The SD and SDHC logos are trademarks of the SD Card Association. The Bluetooth® word mark and logos are registered trademarks of Bluetooth SIG, Inc. and any use of such marks by JVC is under license. All brand names are trademarks, registered trademarks, or trade names of their respective holders. Screen images and print samples on this catalogue are simulated unless otherwise specified.