GZ-R440
Price: $399.99
Find a Dealer
Literature
Register Your Product
Register Purchased a JVC Consumer
Product in the United States?
Accessories
Frequently Asked Questions
FAQ Find answers to
often-asked questions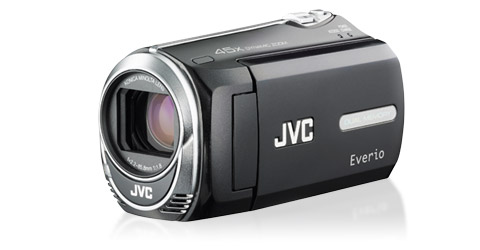 Shooting

Advanced Image Stabilizer*

Great improvement on New Everio is its anti-shake performance. A new technology called Advanced Image Stabilizer expands the effective area at wide angle to 4 times that of 2009 models, delivering powerful compensation for camera shake. You can enjoy stable results even if you're trotting alongside your subject.

| | |
| --- | --- |
| | |
| Previous | New Everio |

* Especially effective when shooting bright scenes at wide angle (from full wide to 5x)

Super LoLux

Low light performance is one of the key factors for quality video. New Everio's Super LoLux ensures superior sensitivity to low light. To provide this, High Definition models (selected) are equipped with a Back-illuminated CMOS sensor that allows intake of more light while Standard Definition models offer a large 1/6" high-sensitivity CCD.

Previous
New Everio

The result is clear images with precise colors even in low light. No worry while indoors or in dark.

Time-Lapse REC

Various unique shooting functions are equipped on New Everio. Time-Lapse REC records one frame at a time at set intervals (1sec.-80sec.). So you can watch an hour-long movement in just a short amount of time when played back. It's great when you want to observe an event that takes place over a long period of time, or to record unique-looking scenes in a creative way.

Auto REC

Another unique function is Auto REC. When a subject enters the detecting area and the luminance changes, recording starts automatically. Recording continues as long as there is movement within the area and automatically stops after 5 seconds of no movement. You can use it like a surveillance camera, or to observe something. Discover new ways to use the camera.

Start Recording
Continue Recording
Recording Stops in 5 Seconds

45x Dynamic Zoom

Standard Definition Everio features the Dynamic Zoom function which uses nearly all of the effective pixels of the CCD to achieve incredible magnification. You can enjoy up to 45x zoom without any degradation of picture quality. Its high-quality lens is a KONICA MINOLTA LENS developed for Everio by the camera specialists.

One-Touch Sharing Button on the Camera

Some models are equipped with "UPLOAD/EXPORT" button on the main unit. When connected with a PC, press this button to start data conversion and upload the file to YouTube™ or export the file to your iTunes® library*.

* Installation of bundled software is required. Export is not available with some models.

Digital Still Images

Every Everio can conveniently record digital still images. Just switch to the image mode and then press the snapshot button. Record your snapshot to either the Built in Memory or a SD card. It's your choice. The snapshot will record up to 1920 x 1080.

The number of still image are approximate and may differ depending on the recording equipment, the condition of the built-in memory or the SD card, or the remaining battery power.